About Us
King Kebab is a Kebabs takeaway in Leeds. Why don't you try our Meat Feast or British Special?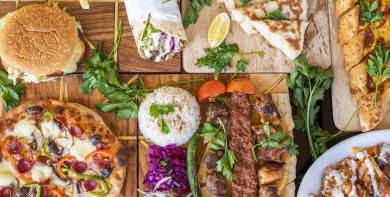 Reviews
452 reviews
James
"Epic kebab and wrap. Huge portions. Great value for money (and tasty too). So much food. That's tomorrow's dinner sorted too. Oh, and great service too."
09/04/2021
Jana
"Amazing food really like it fresh vegetable big box of kebab . Just love it ."
27/03/2021
Dawid
"Great place. Portions are huge, food is hot, and delivery is always early. Ordered from them multiple times, and will order again in the future."
24/03/2021
philip
"Huge portions and lovely kebabs !"
10/03/2021
Menu
Jacket Potato with Cheese
£3.20
Jacket Potato with Coleslaw
£3.20
Jacket Potato with Garlic Butter & Cheese
£3.20
Jacket Potato with Chilli Con Carne
£3.20
Jacket Potato with Tuna & Cheese
£3.80
Jacket Potato with Tuna Mayo
£3.20
King Box A
Spicy chicken fillet burger, chips, 2 chicken strips, popcorn chicken, garlic sauce & a can of Pepsi
£6.90
King Box B
Quarter pounder cheeseburger, 1 piece of southern fried chicken, cheesy chips, donner meat, garlic sauce & a can of Pepsi
£7.50
King Box C
4 Pieces chicken nuggets, 1 cheeseburger, popcorn chicken, garlic sauce, chips & a can of Pepsi
£7.30
King Box D
Quarter pounder chicken fillet burger, quarter pounder cheeseburger, 4 chicken nuggets, 2 pieces of southern fried chicken, chips, garlic sauce, tomato ketchup & 2 cans of Pepsi
£10.90
King Special Naan Kebab
Chicken tikka, donner meat & seekh kebab
£7.50
Seekh Naan Kebab
Spiced mincemeat cooked on charcoal
£5.00
Chicken Masala Kebab on Naan
£7.00
King Balti Kebab on Naan
Chicken tika, meat tikka, seekh kebab & donner meat cooked in our special balti sauce with onions, chillies & Indian herbs
£7.50
XXL King Special Kebab on Naan
Chicken tikka, meat tikka, 2 seekh kebabs & donner
£14.50
Donner & Chicken Tikka Kebab on Naan
£7.00
Topping Cheese
Cheese*Garlic Butter*Pineapple*Chicken Tikka*Herbs*Mushroom*Pepperoni*Salami*Garlic Sausage*Tuna*Onions*Sweetcorn*Tomatoes*Chicken*Spicy Beef*Green Peppers*Minced Beef*Prawns*Keema*Chicken Masala*Donner Meat*Jalapenos*Meat*Seekh Kebab
Topping Garlic Butter
Cheese*Garlic Butter*Pineapple*Chicken Tikka*Herbs*Mushroom*Pepperoni*Salami*Garlic Sausage*Tuna*Onions*Sweetcorn*Tomatoes*Chicken*Spicy Beef*Green Peppers*Minced Beef*Prawns*Keema*Chicken Masala*Donner Meat*Jalapenos*Meat*Seekh Kebab
Topping Pineapple
Cheese*Garlic Butter*Pineapple*Chicken Tikka*Herbs*Mushroom*Pepperoni*Salami*Garlic Sausage*Tuna*Onions*Sweetcorn*Tomatoes*Chicken*Spicy Beef*Green Peppers*Minced Beef*Prawns*Keema*Chicken Masala*Donner Meat*Jalapenos*Meat*Seekh Kebab
Topping Chicken Tikka
Cheese*Garlic Butter*Pineapple*Chicken Tikka*Herbs*Mushroom*Pepperoni*Salami*Garlic Sausage*Tuna*Onions*Sweetcorn*Tomatoes*Chicken*Spicy Beef*Green Peppers*Minced Beef*Prawns*Keema*Chicken Masala*Donner Meat*Jalapenos*Meat*Seekh Kebab
Topping Chillies
Cheese*Garlic Butter*Pineapple*Chicken Tikka*Herbs*Mushroom*Pepperoni*Salami*Garlic Sausage*Tuna*Onions*Sweetcorn*Tomatoes*Chicken*Spicy Beef*Green Peppers*Minced Beef*Prawns*Keema*Chicken Masala*Donner Meat*Jalapenos*Meat*Seekh Kebab
Topping Mushroom
Cheese*Garlic Butter*Pineapple*Chicken Tikka*Herbs*Mushroom*Pepperoni*Salami*Garlic Sausage*Tuna*Onions*Sweetcorn*Tomatoes*Chicken*Spicy Beef*Green Peppers*Minced Beef*Prawns*Keema*Chicken Masala*Donner Meat*Jalapenos*Meat*Seekh Kebab
Topping Pepperoni
Cheese*Garlic Butter*Pineapple*Chicken Tikka*Herbs*Mushroom*Pepperoni*Salami*Garlic Sausage*Tuna*Onions*Sweetcorn*Tomatoes*Chicken*Spicy Beef*Green Peppers*Minced Beef*Prawns*Keema*Chicken Masala*Donner Meat*Jalapenos*Meat*Seekh Kebab
Topping Salami
Cheese*Garlic Butter*Pineapple*Chicken Tikka*Herbs*Mushroom*Pepperoni*Salami*Garlic Sausage*Tuna*Onions*Sweetcorn*Tomatoes*Chicken*Spicy Beef*Green Peppers*Minced Beef*Prawns*Keema*Chicken Masala*Donner Meat*Jalapenos*Meat*Seekh Kebab
Topping Garlic Sausage
Cheese*Garlic Butter*Pineapple*Chicken Tikka*Herbs*Mushroom*Pepperoni*Salami*Garlic Sausage*Tuna*Onions*Sweetcorn*Tomatoes*Chicken*Spicy Beef*Green Peppers*Minced Beef*Prawns*Keema*Chicken Masala*Donner Meat*Jalapenos*Meat*Seekh Kebab
Topping Tuna
Cheese*Garlic Butter*Pineapple*Chicken Tikka*Herbs*Mushroom*Pepperoni*Salami*Garlic Sausage*Tuna*Onions*Sweetcorn*Tomatoes*Chicken*Spicy Beef*Green Peppers*Minced Beef*Prawns*Keema*Chicken Masala*Donner Meat*Jalapenos*Meat*Seekh Kebab
Topping Onions
Cheese*Garlic Butter*Pineapple*Chicken Tikka*Herbs*Mushroom*Pepperoni*Salami*Garlic Sausage*Tuna*Onions*Sweetcorn*Tomatoes*Chicken*Spicy Beef*Green Peppers*Minced Beef*Prawns*Keema*Chicken Masala*Donner Meat*Jalapenos*Meat*Seekh Kebab
Topping Sweetcorn
Cheese*Garlic Butter*Pineapple*Chicken Tikka*Herbs*Mushroom*Pepperoni*Salami*Garlic Sausage*Tuna*Onions*Sweetcorn*Tomatoes*Chicken*Spicy Beef*Green Peppers*Minced Beef*Prawns*Keema*Chicken Masala*Donner Meat*Jalapenos*Meat*Seekh Kebab
Topping Tomatoes
Cheese*Garlic Butter*Pineapple*Chicken Tikka*Herbs*Mushroom*Pepperoni*Salami*Garlic Sausage*Tuna*Onions*Sweetcorn*Tomatoes*Chicken*Spicy Beef*Green Peppers*Minced Beef*Prawns*Keema*Chicken Masala*Donner Meat*Jalapenos*Meat*Seekh Kebab
Topping Chicken
Cheese*Garlic Butter*Pineapple*Chicken Tikka*Herbs*Mushroom*Pepperoni*Salami*Garlic Sausage*Tuna*Onions*Sweetcorn*Tomatoes*Chicken*Spicy Beef*Green Peppers*Minced Beef*Prawns*Keema*Chicken Masala*Donner Meat*Jalapenos*Meat*Seekh Kebab
Topping Spicy Beef
Cheese*Garlic Butter*Pineapple*Chicken Tikka*Herbs*Mushroom*Pepperoni*Salami*Garlic Sausage*Tuna*Onions*Sweetcorn*Tomatoes*Chicken*Spicy Beef*Green Peppers*Minced Beef*Prawns*Keema*Chicken Masala*Donner Meat*Jalapenos*Meat*Seekh Kebab
Topping Green Peppers
Cheese*Garlic Butter*Pineapple*Chicken Tikka*Herbs*Mushroom*Pepperoni*Salami*Garlic Sausage*Tuna*Onions*Sweetcorn*Tomatoes*Chicken*Spicy Beef*Green Peppers*Minced Beef*Prawns*Keema*Chicken Masala*Donner Meat*Jalapenos*Meat*Seekh Kebab
Topping Turkey Ham
Cheese*Garlic Butter*Pineapple*Chicken Tikka*Herbs*Mushroom*Pepperoni*Salami*Garlic Sausage*Tuna*Onions*Sweetcorn*Tomatoes*Chicken*Spicy Beef*Green Peppers*Minced Beef*Prawns*Keema*Chicken Masala*Donner Meat*Jalapenos*Meat*Seekh Kebab
Topping Prawns
Cheese*Garlic Butter*Pineapple*Chicken Tikka*Herbs*Mushroom*Pepperoni*Salami*Garlic Sausage*Tuna*Onions*Sweetcorn*Tomatoes*Chicken*Spicy Beef*Green Peppers*Minced Beef*Prawns*Keema*Chicken Masala*Donner Meat*Jalapenos*Meat*Seekh Kebab
Topping Chicken Masala
Cheese*Garlic Butter*Pineapple*Chicken Tikka*Herbs*Mushroom*Pepperoni*Salami*Garlic Sausage*Tuna*Onions*Sweetcorn*Tomatoes*Chicken*Spicy Beef*Green Peppers*Minced Beef*Prawns*Keema*Chicken Masala*Donner Meat*Jalapenos*Meat*Seekh Kebab
Topping Donner Meat
Cheese*Garlic Butter*Pineapple*Chicken Tikka*Herbs*Mushroom*Pepperoni*Salami*Garlic Sausage*Tuna*Onions*Sweetcorn*Tomatoes*Chicken*Spicy Beef*Green Peppers*Minced Beef*Prawns*Keema*Chicken Masala*Donner Meat*Jalapenos*Meat*Seekh Kebab
Topping Meat
Cheese*Garlic Butter*Pineapple*Chicken Tikka*Herbs*Mushroom*Pepperoni*Salami*Garlic Sausage*Tuna*Onions*Sweetcorn*Tomatoes*Chicken*Spicy Beef*Green Peppers*Minced Beef*Prawns*Keema*Chicken Masala*Donner Meat*Jalapenos*Meat*Seekh Kebab
Topping Chicken Tikka
Cheese*Garlic Butter*Pineapple*Chicken Tikka*Herbs*Mushroom*Pepperoni*Salami*Garlic Sausage*Tuna*Onions*Sweetcorn*Tomatoes*Chicken*Spicy Beef*Green Peppers*Minced Beef*Prawns*Keema*Chicken Masala*Donner Meat*Jalapenos*Meat*Seekh Kebab
1st Half Topping Garlic Butter
1st Half Topping Pineapple
1st Half Topping Chicken Tikka
1st Half Topping Chillies
1st Half Topping Mushroom
1st Half Topping Pepperoni
1st Half Topping Garlic Sausage
1st Half Topping Sweetcorn
1st Half Topping Tomatoes
1st Half Topping Spicy Beef
1st Half Topping Green Peppers
1st Half Topping Turkey Ham
1st Half Topping Chicken Masala
1st Half Topping Donner Meat
1st Half Topping Chicken Tikka
2nd Half Topping Garlic Butter
2nd Half Topping Pineapple
2nd Half Topping Chicken Tikka
2nd Half Topping Chillies
2nd Half Topping Mushroom
2nd Half Topping Pepperoni
2nd Half Topping Garlic Sausage
2nd Half Topping Sweetcorn
2nd Half Topping Tomatoes
2nd Half Topping Spicy Beef
2nd Half Topping Green Peppers
2nd Half Topping Turkey Ham
2nd Half Topping Chicken Masala
2nd Half Topping Donner Meat
2nd Half Topping Chicken Tikka
Sub Cheese & Onion
Cheese & Onion*Ham*Chicken Tikka*Spicy Chicken*Pepperoni*Salami*Garlic Sausage*Vegetarian*Donner Meat*Spicy Beef*Prawn*Tuna*Tuna Sweetcorn*Hot & Spicy Mincemeat
Sub Ham
Cheese & Onion*Ham*Chicken Tikka*Spicy Chicken*Pepperoni*Salami*Garlic Sausage*Vegetarian*Donner Meat*Spicy Beef*Prawn*Tuna*Tuna Sweetcorn*Hot & Spicy Mincemeat
Sub Chicken Tikka
Cheese & Onion*Ham*Chicken Tikka*Spicy Chicken*Pepperoni*Salami*Garlic Sausage*Vegetarian*Donner Meat*Spicy Beef*Prawn*Tuna*Tuna Sweetcorn*Hot & Spicy Mincemeat
Sub Spicy Chicken
Cheese & Onion*Ham*Chicken Tikka*Spicy Chicken*Pepperoni*Salami*Garlic Sausage*Vegetarian*Donner Meat*Spicy Beef*Prawn*Tuna*Tuna Sweetcorn*Hot & Spicy Mincemeat
Sub Pepperoni
Cheese & Onion*Ham*Chicken Tikka*Spicy Chicken*Pepperoni*Salami*Garlic Sausage*Vegetarian*Donner Meat*Spicy Beef*Prawn*Tuna*Tuna Sweetcorn*Hot & Spicy Mincemeat
Sub Salami
Cheese & Onion*Ham*Chicken Tikka*Spicy Chicken*Pepperoni*Salami*Garlic Sausage*Vegetarian*Donner Meat*Spicy Beef*Prawn*Tuna*Tuna Sweetcorn*Hot & Spicy Mincemeat
Sub Garlic Sausage
Cheese & Onion*Ham*Chicken Tikka*Spicy Chicken*Pepperoni*Salami*Garlic Sausage*Vegetarian*Donner Meat*Spicy Beef*Prawn*Tuna*Tuna Sweetcorn*Hot & Spicy Mincemeat
Sub Vegetarian
Cheese & Onion*Ham*Chicken Tikka*Spicy Chicken*Pepperoni*Salami*Garlic Sausage*Vegetarian*Donner Meat*Spicy Beef*Prawn*Tuna*Tuna Sweetcorn*Hot & Spicy Mincemeat
Sub Donner Meat
Cheese & Onion*Ham*Chicken Tikka*Spicy Chicken*Pepperoni*Salami*Garlic Sausage*Vegetarian*Donner Meat*Spicy Beef*Prawn*Tuna*Tuna Sweetcorn*Hot & Spicy Mincemeat
Sub Spicy Beef
Cheese & Onion*Ham*Chicken Tikka*Spicy Chicken*Pepperoni*Salami*Garlic Sausage*Vegetarian*Donner Meat*Spicy Beef*Prawn*Tuna*Tuna Sweetcorn*Hot & Spicy Mincemeat
Sub Prawn
Cheese & Onion*Ham*Chicken Tikka*Spicy Chicken*Pepperoni*Salami*Garlic Sausage*Vegetarian*Donner Meat*Spicy Beef*Prawn*Tuna*Tuna Sweetcorn*Hot & Spicy Mincemeat
Sub Tuna
Cheese & Onion*Ham*Chicken Tikka*Spicy Chicken*Pepperoni*Salami*Garlic Sausage*Vegetarian*Donner Meat*Spicy Beef*Prawn*Tuna*Tuna Sweetcorn*Hot & Spicy Mincemeat
Sub Tuna Sweetcorn
Cheese & Onion*Ham*Chicken Tikka*Spicy Chicken*Pepperoni*Salami*Garlic Sausage*Vegetarian*Donner Meat*Spicy Beef*Prawn*Tuna*Tuna Sweetcorn*Hot & Spicy Mincemeat
Sub Hot & Spicy Mincemeat
Cheese & Onion*Ham*Chicken Tikka*Spicy Chicken*Pepperoni*Salami*Garlic Sausage*Vegetarian*Donner Meat*Spicy Beef*Prawn*Tuna*Tuna Sweetcorn*Hot & Spicy Mincemeat
Sub Donner, Chicken Tikka
Cheese & Onion*Ham*Chicken Tikka*Spicy Chicken*Pepperoni*Salami*Garlic Sausage*Vegetarian*Donner Meat*Spicy Beef*Prawn*Tuna*Tuna Sweetcorn*Hot & Spicy Mincemeat
Spicy Chicken Fillet Burger
Quarter Pounder Cheeseburger
Quarter Pounder Chicken Fillet Burger
Quarter Pounder Chicken Burger
Cheese & Onion Hot Sandwich
£4.50
Chicken Tikka Hot Sandwich
£4.50
Spicy Chicken Hot Sandwich
£4.50
Garlic Sausage Hot Sandwich
£4.50
Tuna & Sweetcorn Hot Sandwich
£4.50
Hot Spicy Mincemeat Hot Sandwich
£4.50
Donner, Chicken Tikka Subs
£5.00
Medium Donner in Pitta Bread
£4.30
Large Donner in Pitta Bread
£5.50
Kebab Meat in Tray (Small)
£3.80
Kebab Meat & Chips (Medium)
£4.50
Mixed Kebab in Pitta Bread (Large)
Donner meat, chicken tikka & seekh kebab
£6.50
Medium Chicken Tikka Kebab in Pitta Bread
£4.90
Large Chicken Tikka Kebab in Pitta Bread
£5.90
Chicken Tikka Kebab with Chips
£5.00
New King Mix Kebab
Donner, chicken tikka & chips
£7.00
Donner Kebab, Cheese & Chips (Medium)
£5.00
Donner Kebab, Cheese & Chips (Small)
£3.50
Donner Kebab, Cheese & Chips (Large)
£7.50
Large Chicken Tikka & Donner Kebab in Pitta Bread
£6.00
Donner, Chicken Tikka Kebab, Cheese & Chips
£6.00
Kebab Meat in Tray (Medium)
£5.50
Kebab Meat in Tray (Large)
£7.50
Kebab Meat & Chips (Large)
£6.50
Onion Rings, Chips & Cheese
£3.90
Garlic Mushroom
Fried mushrooms topped with butter & fresh garlic
£3.00
Hash Brown (4), Chips & Cheese
£3.90
Chilli Con Carne
Served with chips
£4.90
Chilli Cheese Nuggets (8)
Served with chips
£4.70
Jalapeno Cheese Bites (6)
Served with chips
£4.70
Mozzarella Sticks (8)
Served with chips
£4.70
Fish Fingers (10) & Chips
£4.50
Special Mix Box
5 Pieces chicken nuggets, 5 pieces fish fingers, 5 onion rings with chips & garlic sauce
£5.80
Krazy Moo Ice Cream (Small) Choc 'o' Shock
£2.00
Krazy Moo Ice Cream (Small) Whammy Jammy
£2.00
Krazy Moo Ice Cream (Small) Bubble Gum
£2.00
Ben & Jerry's Ice Cream (Small) Cookie Dough
£2.50
Ben & Jerry's Ice Cream (Small) Chocolate Fudge Brownie
£2.50
Ben & Jerry's Ice Cream (Large) Cookie Dough
£5.50
Ben & Jerry's Ice Cream (Large) Chocolate Fudge Brownie
£5.50
Chicken Tikka Starter
Off the bone with salad
£4.20
Mix Starter
Seekh, shami, samosa, onion bhaji, mushroom bhaji & chicken tikka
£5.80
Mix Grill Starter
Samosa, chicken tikka, seekh kebab & donner meat
£6.00
Plain Burger Quarter Pounder
£2.00
Plain Burger Half Pounder
£2.80
Plain Burger Triple Pounder
£3.60
Cheeseburger Quarter Pounder
£2.30
Cheeseburger Half Pounder
£3.00
Cheeseburger Triple Pounder
£3.80
Relish Burger Quarter Pounder
£2.30
Relish Burger Half Pounder
£3.00
Relish Burger Triple Pounder
£3.80
Chilli Burger Quarter Pounder
£2.60
Chilli Burger Half Pounder
£3.40
Chilli Burger Triple Pounder
£4.20
Bolognese Burger Quarter Pounder
£2.60
Bolognese Burger Half Pounder
£3.40
Bolognese Burger Triple Pounder
£4.20
Donner Burger Quarter Pounder
£2.80
Donner Burger Half Pounder
£3.80
Donner Burger Triple Pounder
£4.80
American Burger Quarter Pounder
£2.60
American Burger Half Pounder
£3.60
American Burger Triple Pounder
£4.50
Hawaiian Burger Quarter Pounder
£2.60
Hawaiian Burger Half Pounder
£3.60
Hawaiian Burger Triple Pounder
£4.50
Coleslaw Burger Quarter Pounder
£2.60
Coleslaw Burger Half Pounder
£3.60
Coleslaw Burger Triple Pounder
£4.50
Chicken Burger Quarter Pounder
£2.00
Chicken Burger Half Pounder
£2.80
Chicken Burger Triple Pounder
£3.80
Cheese Chicken Burger Quarter Pounder
£2.40
Cheese Chicken Burger Half Pounder
£3.20
Cheese Chicken Burger Triple Pounder
£4.20
Chicken Fillet Burger Quarter Pounder
£2.80
Chicken Fillet Burger Half Pounder
£3.80
Chicken Fillet Burger Triple Pounder
£4.80
King Special Burger Quarter Pounder
Pepperoni & double cheese
£2.60
King Special Burger Half Pounder
Pepperoni & double cheese
£3.50
King Special Burger Triple Pounder
Pepperoni & double cheese
£4.50
Special American Burger Quarter Pounder
Fried onions, pepperoni, cheese & fresh salad
£2.80
Special American Burger Half Pounder
Fried onions, pepperoni, cheese & fresh salad
£3.60
Special American Burger Triple Pounder
Fried onions, pepperoni, cheese & fresh salad
£4.60
Hot Shot Burger Quarter Pounder
Mexican hot, green chilli, jalapenos extra, extra hot
£2.60
Hot Shot Burger Half Pounder
Mexican hot, green chilli, jalapenos extra, extra hot
£3.40
Hot Shot Burger Triple Pounder
Mexican hot, green chilli, jalapenos extra, extra hot
£4.20
Max Special Burger Quarter Pounder
Cheese, pineapple & onion rings
£2.80
Max Special Burger Half Pounder
Cheese, pineapple & onion rings
£3.60
Max Special Burger Triple Pounder
Cheese, pineapple & onion rings
£4.60
King Burger Quarter Pounder
Mushrooms, pepperoni & green peppers grilled with a cheese slice
£2.80
King Burger Half Pounder
Mushrooms, pepperoni & green peppers grilled with a cheese slice
£3.60
King Burger Triple Pounder
Mushrooms, pepperoni & green peppers grilled with a cheese slice
£4.60
Asian Special Burger Quarter Pounder
Pepperoni, jalapenos, cheese & piri piri sauce
£2.80
Asian Special Burger Half Pounder
Pepperoni, jalapenos, cheese & piri piri sauce
£3.60
Asian Special Burger Triple Pounder
Pepperoni, jalapenos, cheese & piri piri sauce
£4.60
Piri Beef Burger Quarter Pounder
Topped with piri piri sauce
£2.20
Piri Beef Burger Half Pounder
Topped with piri piri sauce
£3.00
Piri Beef Burger Triple Pounder
Topped with piri piri sauce
£3.80
Mixed Burger
Quarter pounder beef & quarter pounder chicken
£3.50
Rodeo Burger Half Pounder
Beef burger, cheese, onion ring, BBQ sauce
£3.90
Rodeo Burger Quarter Pounder
Beef burger, cheese, onion ring, BBQ sauce
£2.90
Rodeo Burger Triple Pounder
Beef burger, cheese, onion ring, BBQ sauce
£4.90
Tower Burger Half Pounder
Chicken fillet & hash brown
£4.50
Tower Burger Quarter Pounder
Chicken fillet & hash brown
£3.00
Garlic Bread
Garlic butter on a pizza base
£2.80
Garlic Bread Special
Garlic butter & tomato on a pizza base
£3.60
Garlic Bread Supreme
Garlic butter & cheese on a pizza base
£4.20
King Garlic Bread
Garlic butter, cheese, pepperoni & pepper
£5.20
King Supreme Garlic Bread
Garlic butter, cheese & donner meat
£5.90
1 Piece of Southern Fried Chicken
£1.50
1 Piece Southern Fried Chicken & Chips
£2.50
2 Pieces Southern Fried Chicken & Chips
£3.80
3 Pieces Southern Fried Chicken & Chips
£5.00
Family Pack
6 Pieces of chicken & chips
£9.80
King Bucket
9 Pieces of chicken & 3 chips, 1 tomato ketchup, 1 garlic sauce & 1 BBQ sauce
£14.50
Margherita 12" Thin
Cheese
£6.00
Margherita 12" Deep
Cheese
£7.00
Margherita 16" Thin
Cheese
£9.00
Garlic Margherita 12" Thin
Garlic butter & cheese
£6.50
Garlic Margherita 12" Deep
Garlic butter & cheese
£7.50
Garlic Margherita 16" Thin
Garlic butter & cheese
£9.50
Caribbean 12" Thin
Pineapple, chicken tikka & herbs
£6.80
Caribbean 12" Deep
Pineapple, chicken tikka & herbs
£7.80
Caribbean 16" Thin
Pineapple, chicken tikka & herbs
£9.80
Al Funghi 12" Thin
Mushroom
£6.20
Al Funghi 12" Deep
Mushroom
£7.20
Al Funghi 16" Thin
Mushroom
£9.20
Turkey Ham & Pineapple 12" Thin
£6.50
Turkey Ham & Pineapple 12" Deep
£7.50
Turkey Ham & Pineapple 16" Thin
£9.50
Tuna Delight 12" Thin
Tuna, onions & sweetcorn
£6.50
Tuna Delight 12" Deep
Tuna, onions & sweetcorn
£7.50
Tuna Delight 16" Thin
Tuna, onions & sweetcorn
£9.50
Hawaiian 12" Thin
Salami & pineapple
£6.50
Hawaiian 12" Deep
Salami & pineapple
£7.50
Hawaiian 16" Thin
Salami & pineapple
£9.50
Chilli 12" Thin
Chilli con carne & onions
£6.50
Chilli 12" Deep
Chilli con carne & onions
£7.50
Chilli 16" Thin
Chilli con carne & onions
£9.50
Vegetarian 12" Thin
Onions, peppers, mushrooms, sweetcorn, pineapple & fresh tomatoes
£6.50
Vegetarian 12" Deep
Onions, peppers, mushrooms, sweetcorn, pineapple & fresh tomatoes
£7.50
Vegetarian 16" Thin
Onions, peppers, mushrooms, sweetcorn, pineapple & fresh tomatoes
£9.50
Bolognese 12" Thin
Bolognese & onion
£6.50
Bolognese 12" Deep
Bolognese & onion
£7.50
Bolognese 16" Thin
Bolognese & onion
£9.50
Chicken & Sweetcorn 12" Thin
£6.90
Chicken & Sweetcorn 12" Deep
£7.90
Chicken & Sweetcorn 16" Thin
£9.90
Hot Shot 12" Thin
Peppers, pepperoni, spicy beef, chilli & onions
£6.90
Hot Shot 12" Deep
Peppers, pepperoni, spicy beef, chilli & onions
£7.90
Hot Shot 16" Thin
Peppers, pepperoni, spicy beef, chilli & onions
£9.90
Pollo Funghi 12" Thin
Mushroom & chicken
£6.90
Pollo Funghi 12" Deep
Mushroom & chicken
£7.90
Pollo Funghi 16" Thin
Mushroom & chicken
£9.90
Keema 12" Thin
Mincemeat & onion
£6.90
Keema 12" Deep
Mincemeat & onion
£7.90
Keema 16" Thin
Mincemeat & onion
£9.90
Chicken Tikka 12" Thin
Chicken tikka, green peppers & onions
£7.00
Chicken Tikka 12" Deep
Chicken tikka, green peppers & onions
£8.00
Chicken Tikka 16" Thin
Chicken tikka, green peppers & onions
£10.00
Kashmiri Hot 12" Thin
Fresh peppers, onions, chicken, minced beef, Kashmir herbs & spices
£7.00
Kashmiri Hot 12" Deep
Fresh peppers, onions, chicken, minced beef, Kashmir herbs & spices
£8.00
Turkey Ham & Mushroom 12" Thin
£7.00
Turkey Ham & Mushroom 12" Deep
£8.00
Turkey Ham & Mushroom 16" Thin
£10.00
Four Cheese 12" Thin
Combination of four different cheeses
£7.00
Four Cheese 12" Deep
Combination of four different cheeses
£8.00
Four Cheese 16" Thin
Combination of four different cheeses
£10.00
Seafood Special 12" Thin
Prawn, tuna & herbs
£7.00
Seafood Special 12" Deep
Prawn, tuna & herbs
£8.00
Barbecue Chicken 12" Thin
BBQ sauce, chicken & onions
£7.00
Barbecue Chicken 12" Deep
BBQ sauce, chicken & onions
£8.00
Barbecue Chicken 16" Thin
BBQ sauce, chicken & onions
£10.00
British Special 12" Thin
Salami, pepperoni, turkey ham, keema & chicken tikka
£7.50
British Special 12" Deep
Salami, pepperoni, turkey ham, keema & chicken tikka
£8.50
British Special 16" Thin
Salami, pepperoni, turkey ham, keema & chicken tikka
£10.50
Chicken Masala 12" Thin
Chicken masala, chilli & herbs
£7.80
Chicken Masala 12" Deep
Chicken masala, chilli & herbs
£8.80
Chicken Masala 16" Thin
Chicken masala, chilli & herbs
£10.80
Donner 12" Thin
Donner meat & onions
£7.50
Donner 12" Deep
Donner meat & onions
£8.50
Donner 16" Thin
Donner meat & onions
£10.50
King's BBQ Special 12" Thin
Pepperoni, salami, chicken & BBQ sauce
£7.50
King's BBQ Special 12" Deep
Pepperoni, salami, chicken & BBQ sauce
£8.50
King's BBQ Special 16" Thin
Pepperoni, salami, chicken & BBQ sauce
£10.50
Asian Pizza 12" Thin
Chicken tikka, keema, donner meat, sweetcorn, onions, peppers, jalapenos & green chilli
£8.20
Asian Pizza 12" Deep
Chicken tikka, keema, donner meat, sweetcorn, onions, peppers, jalapenos & green chilli
£9.20
Asian Pizza 16" Thin
Chicken tikka, keema, donner meat, sweetcorn, onions, peppers, jalapenos & green chilli
£11.20
Meat Feast 12" Thin
Pepperoni, salami, garlic sausage, chicken & keema
£7.70
Meat Feast 12" Deep
Pepperoni, salami, garlic sausage, chicken & keema
£8.70
Meat Feast 16" Thin
Pepperoni, salami, garlic sausage, chicken & keema
£10.70
King Special Pizza 12" Thin
Chicken tikka, chicken, pepperoni, salami, garlic sausage, keema, onion, peppers, sweetcorn & mushroom
£8.20
King Special Pizza 12" Deep
Chicken tikka, chicken, pepperoni, salami, garlic sausage, keema, onion, peppers, sweetcorn & mushroom
£9.20
King Special Pizza 16" Thin
Chicken tikka, chicken, pepperoni, salami, garlic sausage, keema, onion, peppers, sweetcorn & mushroom
£11.20
50/50 12" Thin
Any three toppings on each side
£8.50
50/50 12" Deep
Any three toppings on each side
£9.50
50/50 16" Thin
Any three toppings on each side
£12.50
Make Your Own Pizza 12" Thin
Mozzarella cheese, tomato & any 3 toppings of your choice
£8.00
Make Your Own Pizza 12" Deep
Mozzarella cheese, tomato & any 3 toppings of your choice
£9.00
Make Your Own Pizza 16" Thin
Mozzarella cheese, tomato & any 3 toppings of your choice
£11.00
Chicken Tikka Masala 12" Thin
£8.50
Chicken Tikka Masala 12" Deep
£9.50
Chicken Tikka Masala 16" Thin
£11.50
King's Balti Special 12" Thin
Chicken tikka, meat tikka, seekh kebab & donner meat cooked in our special balti sauce, onion, chillies & Indian herbs
£8.50
King's Balti Special 12" Deep
Chicken tikka, meat tikka, seekh kebab & donner meat cooked in our special balti sauce, onion, chillies & Indian herbs
£9.50
King's Balti Special 16" Thin
Chicken tikka, meat tikka, seekh kebab & donner meat cooked in our special balti sauce, onion, chillies & Indian herbs
£11.50
King Meat Feast 12" Thin
Donner, chicken tikka, keema, green chilli, onion & green peppers
£8.00
King Meat Feast 12" Deep
Donner, chicken tikka, keema, green chilli, onion & green peppers
£9.00
King Meat Feast 16" Thin
Donner, chicken tikka, keema, green chilli, onion & green peppers
£11.00
King Mix Meat 12" Thin
Turkey ham, pepperoni, salami, garlic sausage, chicken tikka, donner meat & chicken
£8.50
King Mix Meat 12" Deep
Turkey ham, pepperoni, salami, garlic sausage, chicken tikka, donner meat & chicken
£9.50
King Mix Meat 16" Thin
Turkey ham, pepperoni, salami, garlic sausage, chicken tikka, donner meat & chicken
£11.50
King's Piri Piri 12" Thin
Donner meat, pepperoni, chicken tikka & piri piri sauce
£8.00
King's Piri Piri 12" Deep
Donner meat, pepperoni, chicken tikka & piri piri sauce
£9.00
King's Piri Piri 16" Thin
Donner meat, pepperoni, chicken tikka & piri piri sauce
£11.00
King Asian 12" Thin
Chicken tikka, donner, green peppers, onions, sweetcorn & chilli
£8.00
King Asian 12" Deep
Chicken tikka, donner, green peppers, onions, sweetcorn & chilli
£9.00
King Asian 16" Thin
Chicken tikka, donner, green peppers, onions, sweetcorn & chilli
£11.00
Donner & Chicken Tikka 12" Thin
£8.00
Donner & Chicken Tikka 12" Deep
£9.00
Donner & Chicken Tikka 16" Thin
£11.00
Marrakech 12" Thin
Chicken, pepperoni, salami, sweetcorn & green peppers
£8.00
Marrakech 12" Deep
Chicken, pepperoni, salami, sweetcorn & green peppers
£9.00
Marrakech 16" Thin
Chicken, pepperoni, salami, sweetcorn & green peppers
£11.00
Kashmiri Hot 16" Thin
Fresh peppers, onions, chicken, minced beef, Kashmir herbs & spices
£10.00
Seafood Special 16" Thin
Prawn, tuna & herbs
£10.00
Pollo Supreme 12" Thin
Chicken, mushrooms, onions & peppers
£7.50
Pollo Supreme 12" Deep
Chicken, mushrooms, onions & peppers
£8.50
Pollo Supreme 16" Thin
Chicken, mushrooms, onions & peppers
£10.50
Meaty BBQ 12" Thin
Turkey ham, pepperoni, minced beef & BBQ sauce
£8.00
Meaty BBQ 12" Deep
Turkey ham, pepperoni, minced beef & BBQ sauce
£9.00
Meaty BBQ 16" Thin
Turkey ham, pepperoni, minced beef & BBQ sauce
£11.00
Flamin' Beef 12" Thin
Minced beef, green chillies, onions & jalapenos
£7.50
Flamin' Beef 12" Deep
Minced beef, green chillies, onions & jalapenos
£8.50
Flamin' Beef 16" Thin
Minced beef, green chillies, onions & jalapenos
£10.50
Flamin' Chicken 12" Thin
Chicken, green chillies, onions & jalapenos
£7.50
Flamin' Chicken 12" Deep
Chicken, green chillies, onions & jalapenos
£8.50
Flamin' Chicken 16" Thin
Chicken, green chillies, onions & jalapenos
£10.50
King Dynamite 12" Thin
Chicken tikka, donner meat, pepperoni, onions, peppers & green chilli
£8.50
King Dynamite 12" Deep
Chicken tikka, donner meat, pepperoni, onions, peppers & green chilli
£9.50
King Dynamite 16" Thin
Chicken tikka, donner meat, pepperoni, onions, peppers & green chilli
£11.50
Calzone Special
Salami, pepperoni, garlic sausage, mushrooms & herbs
£6.70
Vegetable Calzone
Onions, mushrooms, peppers & sweetcorn
£6.50
Donner Calzone
Donner meat & onions
£7.50
Pollo Calzone
Chicken & herbs
£7.00
King Calzone
Chicken tikka, pepperoni, donner & cheese
£8.00
Meat Feast Calzone
Pepperoni, salami, garlic sausage, chicken & keema
£7.50
Asian Calzone
Donner & chicken tikka
£7.50
King Balti Calzone
Chicken tikka, meat tikka, seekh kebab & donner meat cooked in our special balti sauce with onions, chillies & Indian herbs
£8.50
Chicken Tikka Masala Calzone
£8.50
Make Your Own Calzone
Any 3 toppings
£8.00
Kids Quarter Pounder Cheeseburger
£3.50
Kids Quarter Pounder Chicken Burger
£3.50
Kids 4 Pieces Mozzarella Sticks
£3.90
Deal 5 Any 2 x 12" Thin Pizzas
Any 2 pizzas, 2 chips & 2 cans of Pepsi
£15.50
Deal 5 Any 2 x 12" Deep Pizzas
Any 2 pizzas, 2 chips & 2 cans of Pepsi
£17.50
Deal 6 Any 12" Thin Pizza
Any 12" pizza, chips & a can of Pepsi
£8.50
Deal 6 Any 12" Deep Pizza
Any 12" pizza, chips & a can of Pepsi
£9.50
Deal 7
2 Large donner kebabs in pitta with salad & sauce, portion of chips & 2 cans of Pepsi
£10.50
Deal 9 (A)
Donner wrap, chips & a can of Pepsi
£5.00
Deal 9 (B)
Texas turnover, chips & a can of Pepsi
£5.00
Deal 9 (C)
Chicken tikka wrap, chips & a can of Pepsi
£5.00
Deal 9 (D)
Mixed wrap, chips & a can of Pepsi
£6.00
Deal 9 (E)
Special wrap, chips & a can of Pepsi
£6.70
Deal 8 Regular
Any family size 16" pizza, 2 portions of chips & a bottle of Pepsi
£15.50
Deal 8 50/50
Any family size 16" pizza, 2 portions of chips & a bottle of Pepsi
£18.00
Deal 1
Quarter pounder cheeseburger or chicken burger with chips & can of Pepsi
£3.90
Deal 2
2 x Quarter pounder cheeseburgers or quarter pounder chicken burgers with chips & 2 cans of Pepsi
£7.80
Deal 3
Any sub (excluding chicken masala) with chips & can of Pepsi
£6.00
Deal 4
Any 3 x 12" thin pizzas, 3 x chips & bottle of Pepsi
£24.00
Deal 4
Any 3 x 12" thin pizzas, 3 x chips & bottle of Pepsi
£27.00
Texas Turnover Wrap
Delicious hot & spicy southern fried chicken breast fillets wrapped in a tortilla with lettuce & mayo
£3.00
Special Wrap
Donner & chicken tikka & cheese
£5.00
Tuna Sweetcorn & Cheese Wrap
£4.70
Mix Wrap
Donner & chicken tikka
£4.50
Texas BBQ Wrap
BBQ sauce & lettuce
£3.50
Contact Us
Find Us
130a Tempest Road, Leeds, LS117DL
We deliver to
LS1, LS10, LS11, LS26, LS27, LS98